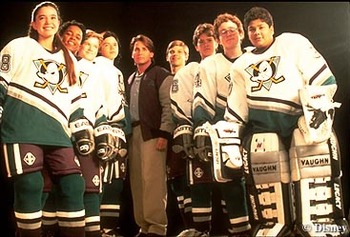 The Good:
Adam Banks's wrist is feeling much, much better.
The Bad:
Russ Tyler isn't hanging out in the LA projects for the Ducks to sign.
Look for:
Some key saves at huge moments from Goldberg, but if he slips, Julie "The Cat" Gaffney is waiting in the wings
Dallas Stars
The Good:
I'm thinking, I'm thinking. Just give me a minute...
The Bad:
Could be their worst season since moving to Dallas
Look for:
Mike Modano to finish his career as a Sta...nevermind.
The Good:
Have one of, if not the best young defensemen in the league--Drew Doughty
The Bad:
Missed out on the Ilya Kovalchuk and Simon Gagne sweepstakes and traded the great Randy Jones. Big Mistake. HUGE.
Look for:
Terry Murray to lead the Kings into the playoffs in consecutive seasons for the first time since 2002.
Phoenix Coyotes
The Good:
The Yotes are in Phoenix for at least another year! Hooray!
The Bad:
Last year may have been a fluke.
Look for:
Ilya Bryzgalov to compete once again for the Vezina Trophy
San Jose Sharks
The Good:
Will probably be first in the West once again
The Bad:
Still don't have what it takes to win a Stanley Cup
Look for:
The Sharks to say, "Shoot. Evgeni Nabokov was pretty darn good. And wow, Antti Neimi sucks."
Prediction:
#1 San Jose Sharks
#2 Los Angeles Kings
#3 Phoenix Coyotes
#4 Anaheim Ducks
#5 Dallas Stars