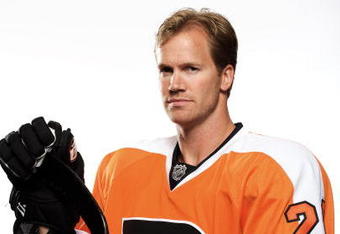 Chris Pronger makes everyone around him better.
In two seasons before Pronger joined the Flyers, his defensive partner Matt Carle had a few up-and-down years. In his first year with the Flyers, Carle had four goals and 20 assists and was +2. In the year before that with both the Sharks and Lightning, Carle had a total of three goals and 13 assists and was a -7.
But once he got paired with the tree trunk of a player in Pronger, Carle's statistics shot up. Last season, Carle had six goals and 29 assists and was a career-best +19. And as of today, Carle is on pace for 31 points and a +30. These kind of improvements don't simply come with working harder in the weight room. It's all about chemistry and trust.
When Matt Carle finds himself in a sticky situation on the ice, he knows he has Pronger to back him up to get out of it. If he needs to get rid of the puck, he knows he has Pronger to bail him out. If Carle makes a risky play on offense, he knows he can because he has Pronger back on D to give him support. Pronger not only has confidence in himself, but he breeds confidence in other players on the ice, and that;s something very few players are able to do.
Even coming off of off-season knee surgery, Pronger still has the ability to settle down every play on the ice. He makes sure that nothing get's out of hand, he slows down the play of defense and is more like a quarterback directing traffic than an NHL defenseman.
Whether it be screening the goalie (legally or illegally) or mouthing off to the refs to make sure they know they got the call wrong and better not get it wrong again, Chris Pronger is the backbone of this Flyers team and gives them their on-ice (and off-ice) swagger.