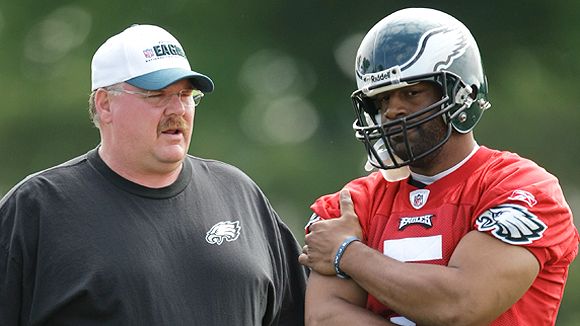 After all the speculation of whether he would go here or there, to Oakland or to Buffalo, stay in Philadelphia or continue his career in another city, it's all over. Donovan McNabb is a Washington Redskin.
It certainly sounds strange to utter those words. Donovan has basically been my only quarterback. Sure there were the Bobby Hoying days in the late 90s and the injury-riddled seasons that saw players like A.J. Feeley, Koy Detmer and Jeff Garcia man the helm. But since I was old enough to know what intentional grounding was and why teams defer to the second half, Andy Reid has been my team's coach and Donovan McNabb has been it's QB. It's the only thing I've known. And when No. 5 comes out of the away tunnel at Lincoln Financial Field wearing burgundy and gold instead of the midnight green we've all become accustomed to seeing, it's going to be a strange sight indeed.
When all is said and done and all of the McNabb lovers have stopped crying and all of the McNabb haters have stopped rejoicing, the Eagles got a second round pick, 37th overall, in the 2010 draft and a conditional third or fourth round pick in 2011.
This is about what most expected McNabb was worth in the open market; a second rounder and a couple later round picks. So as far as what the Eagles got in return for Donovan, I'm fairly pleased. What I don't understand though, is why Philadelphia would trade him to a division rival.
Andy Reid was quoted as saying how he wanted to make McNabb happy as far who his next team would be. Donovan didn't want to go to Oakland (who could blame him) and he didn't want to go to Buffalo. And the only other contending team who offered the Eagles what they wanted for McNabb was, we can only assume, the Washington Redskins. Does Andy Reid and the rest of the Eagles management not realize that Washington is in the same NFC East that Philadelphia is in and that they play the Eagles twice a year? Who cares where Donovan wants to go if where he goes poses a potential risk to your own team. Reid should have been more concerned about the success of his own team and pleasing its millions of fans instead of its now former QB.
Just look at what Brett Favre did to the Packers when he played them twice in 2009. A 30-23 win in Minnesota and a 38-26 beat down in Green Bay. McNabb is certainly going to be pumped for the games against the Birds and it would not surprise me at all for those two games be his best of the season.
But this is a completely different team for McNabb. He's obviously not with the Eagles anymore, so he may not be as successful (or unsuccessful, depends on which way you look at it) as he once was. He could, according to some (not me), never find a way to win the "big game" when it really mattered. Another quarterback from the past 20 or so years had a reputation for not being able to win the crucial games? A certain Hall of Fame quarterback named John Elway.
Elway was successful as the QB of the Broncos early on in his career. He took his team to three Super Bowls in four years from 1986-89 but didn't win any of them. Some said he would never be able to win the big game. Then in 1995 the Broncos got a new coach, the current head coach of the Washington Redskins, Mike Shanahan. Shanahan and Elway took the Broncos to back-to-back Super Bowls in 1998 and 1999 and won both of them. Elway, like McNabb, had the reputation of choking when his team needed a win in its biggest games. Shanahan turned that reputation around when became the head coach of the Broncos and turned John Elway into a Hall of Famer and one of the most successful quarterbacks of all time.
Now will Shanahan do that with McNabb and the Redskins? No one knows, but what we do know is that McNabb will be
ready
to play the Eagles come fall. And I wouldn't at all be surprised to see Donovan take the Redskins to the playoffs for the first time since 2007, leaving the Eagles on the outside looking in.